Leftist radicals were caught on camera attacking a group of women who had gathered outside a California courthouse on Monday to protest the placement of a murderous male transsexual in a women's prison.
What are the details?
A group of women, some affiliated with the U.S. chapter of Women's Declaration International, gathered outside the René C. Davidson Courthouse in Oakland, California, to protest the possible placement of Dana Rivers in a women's prison after his triple conviction last month.
TheBlaze previously reported that Rivers, a national transsexual rights activist and former American Federation of Teachers labor leader, was found guilty in November of butchering two lesbians and murdering their adopted African son.
Rivers, whose name was originally David Warfield, stabbed 56-year-old Charlotte Reed over 40 times and shot her twice on Nov. 11, 2016. Rivers also shot and stabbed 57-year-old Patricia Wright.
Before setting fire to the victims' house, the transsexual activist shot 19-year-old Benny Diambu-Wright, who later perished.
The Post Millennial reported that the protesters do not want Rivers — in court for sanity proceedings — to be incarcerated among real women.
They held signs that read, "Dana Rivers is a man" and "No men in women's prisons."
Among the protesters wearing sashes that read "Woman Adult Human Female" were Lierre Keith, founder of the Women's Liberation Front (WoLF), attorney Kara Dansky, president of Women's Declaration International, and biology professor Arla Hile.
Keith told the Post Millennial that her protest on Monday was extra to ongoing legal efforts by her group to protect women from being jailed with men.
WoLF filed a lawsuit in California on Nov. 17, 2021, challenging a law that houses a criminal "in a correctional facility designated for men or women based on the individual's preference."
According to the women's group, the transfer of hundreds of men into women's prisons has "resulted in intimidation, sexual harassment, physical assaults, and sexual assaults committed by the men against female inmates."
After making their grievances known on the steps of the courthouse, the protesters moved to nearby Lake Merritt Park, where over a dozen Antifa thugs reportedly descended upon them.
In a video capturing part of the resultant attack by what appear to be two male leftists, one witness can be heard saying, "These are the kind of men we want to keep out of the prison."
The thugs wore masks and hood and were dressed in all black. One, mounted on a bicycle, wore a red armband.
The attackers whipped pies and eggs at some of the women, jabbed one protester with an umbrella, and proceeded to bull over others, ultimately taking their banner.
The Antifa Twitter account @pridewasariot_ belonging to so-called "Militant Queer | Lavender Angels" celebrated the anti-woman attack, adding hashtags "QueersBashBack" and "QueerMeansAttack."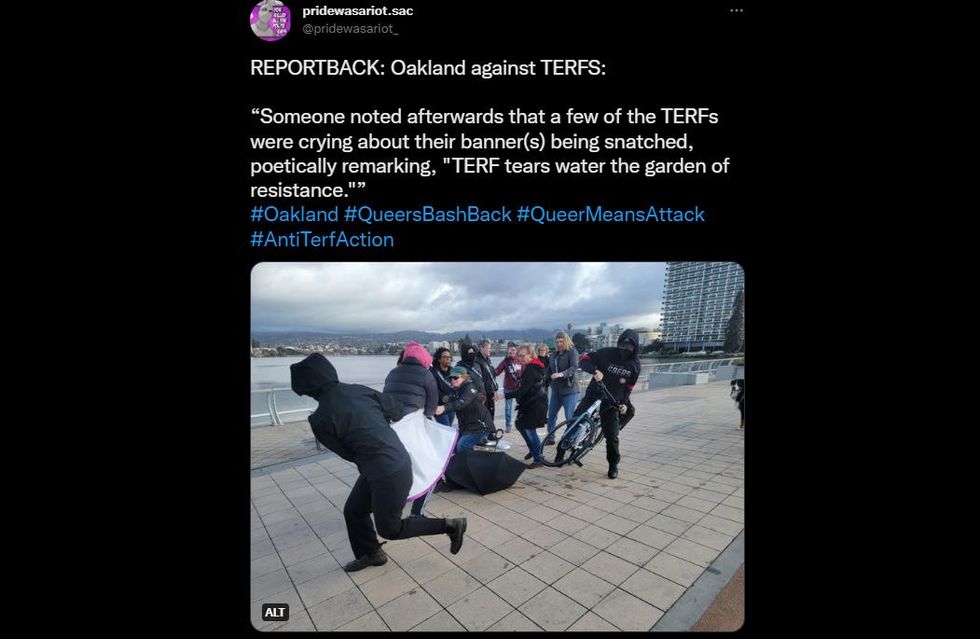 The day before the attack, an event listing was posted to the leftist activist site IndyBay.org calling for radicals "to counter a rally by leaders of the TERF group WoLF (Women's Liberation Front), which works closely with the far-Right, white nationalists, right-wing think-tanks, and the Republican party to attack trans people."
Another listing on the leftist site for a related counterprotest entitled "F— TERFs" denounced Kara Dansky and Lierre Keith as "transphobes" who allegedly "choose to focus on … enforcing gender bigotry in prisons. In doing so, they clearly align themselves with the most hateful demagoguery currently animating far-right politics."
The posting suggested that efforts by real women to keep men out of women's jails "are just one short hop away from White Nationalism."
Keith later told the Post Millennial that despite getting hit in the head and having an injured eye, she was still able to see that "they're just cowards. They came, they hit us. It's a bunch of men hitting a bunch of women, as usual."
Jesika Gonzalez, among the protesters, said, "They were quick because they're men. … They could easily overpower us, grab our signs and run away. That's all they were after; they wanted to steal our message from us."