A top NFL executive drew ire from NFL team owners in a league meeting this week after he allegedly compared the player scouting combine to a "slave auction."
Troy Vincent, NFL executive vice president of football operations, drew the comparison during a meeting on Wednesday, during which he announced changes to the combine that would "involve a less tedious medical evaluation process and a closer look at questions teams ask of draft prospects," CBS Sports reported.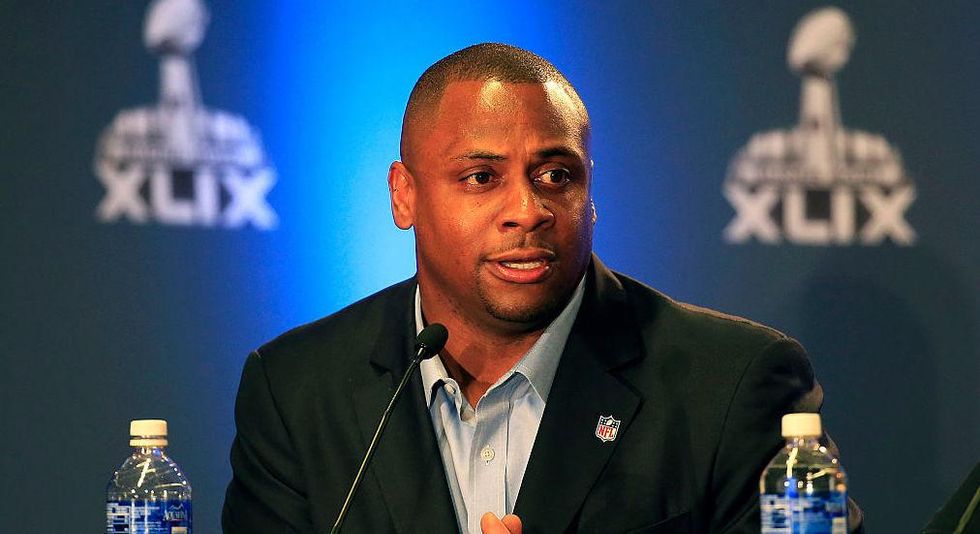 Troy Vincent, a 16-year NFL veteran, who has worked for the NFL since 2014. (Rob Carr/Getty Images)
Sources who spoke to CBS Sports said that Vincent's comments drew immediate criticism from team owners.
Atlanta Falcons owner Arthur Blank "took umbrage with the idea that he was either taking part in or helping to prop up an event that could be considered racist," according to CBS Sports, while Pittsburgh Steelers owner Art Rooney explained the scouting combine is a necessary part of evaluating the talent of college players who aspire to play at the professional level.
What is the problem?
The NFL scouting combine invites the top 300 draft-eligible college players to a four-day event each spring, allowing the players to demonstrate their physical and mental capabilities before NFL scouts.
Critics of the combine denounce alleged "racially biased evaluations," the New York Times noted, because the majority of players are black and they're being asked to publicly demonstrate their athletic and mental abilities, hence comparisons to a "slave auction."
Still, Dallas Cowboys owner Jerry Jones, speaking after Blank in Wednesday's meeting, defended the combine as prestigious. There are thousands of college football players, he argued, yet only a small percentage are invited to the combine.
What did Vincent say?
After the meeting, Vincent explained the sentiment he expressed in the closed-door meeting was about honoring the dignity of the players.
"We just feel like the overall experience, talking to the players, we can be better in that particular aspect," Vincent said. "So there was, I would say, a good discussion around what that looks like, where we could be, keeping in mind that the combine is the player's first experience with the National Football League, and in that experience, there has to be dignity."
"It's a great opportunity for the young men, but there has to be some form of dignity and level of dignity and respect as they go through that process," he explained.